ANZA Knives One Off By HOW Knife w/ Free Kydex Sheath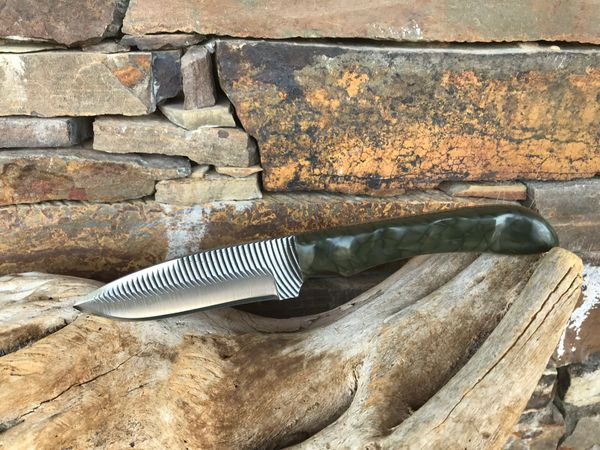 ANZA Knives One Off By HOW Knife w/ Free Kydex Sheath
Listing is for a brand new Makers choice knife by How (so only 1 of these made)   comes with Anza leather belt sheath and one of my Kydex taco style sheaths with Tek Lok.
How spent some time on this knife contouring the Green  handle (see photos) and I do like how it feels in my hand. The knife is Overall 8-7/8" with a 4-1/4"  blade that is 1-1/8" at widest point.

All kydex holsters and sheaths are handcrafted to imperfection by me, a U.S. army Vet. They're hand sanded and formed one at a time. No two are the same, I take individual photos of each item so you get what is in the picture. I use polyurethane washers on all my hardware!
This is the absolute best way to buy Kydex, built to the exact knife. Most knives are hand ground and sharpened which means they are not exactly alike. Kydex forms to the knife so if you get a knife that's a little bigger than the knife I used to form with there can be fit issues which can be fixed with a heat gun or hair dryer.