ANZA Knives Mini SWAT Custom Blued Knife w/ Riptile Kydex Sheath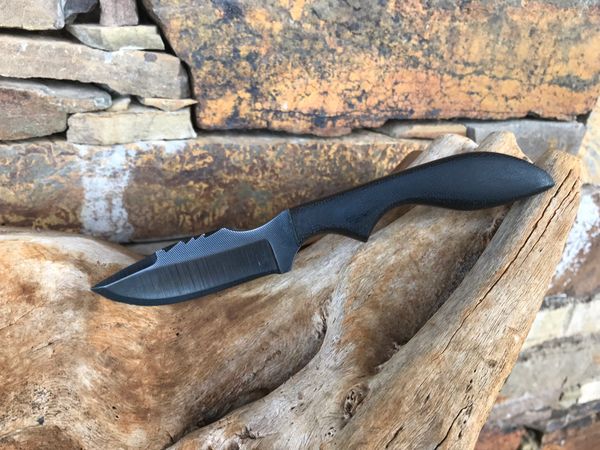 ANZA Knives Mini SWAT Custom Blued Knife w/ Riptile Kydex Sheath
I am an ANZA Knives Dealer!
Free shipping to Lower 48! All others must get a quote.
Listing is for a Brand new Anza Mini SWAT Knife and one of my custom kydex sheaths.
I made this taco style sheath from Riptile Kydex. The sheaths eyelets are set for a small Tek Lok  (Not Included).  The Tek Lok can mount in the vertical, scout and modified scout positions as well as left or right hand pull. 
MINI SWAT M. MADE FROM A 10" FILE.
IF YOU HAVE OUR LARGER SWAT DESIGNED BY JOE VERDUGO, YOU'LL WANT THIS SMALL COMPANION OF THE SAME STYLE. CANVAS MICARTA HANDLE WITH A ROUGH FINISH FOR BETTER GRIP.  COMES WITH A BLACK SHEATH.
From Anza...
The Anza Knives Story
Built for the Collector, Priced for the Sportsman.
Since our start in 1980, Anza has been committed to providing top handmade affordable knives for the sportsman and collector.
We choose to make our knives from files because a file is an excellent source of high carbon tool steel. Through a process called annealing, we remove the brittleness normally found in a file. The knives are then hand ground to shape, a handle, commonly known as Dymondwood is then added, and final finishing, polishing and sharpening are then completed. The final result is a beautifully made knife that will both hold an edge and sharpen easily.
Our knives are so sharp and hold an edge so well, they have become a favorite among guides and outfitters, hunters, backpackers, and fishermen. They are also widely used as a utility knife by the "workingman". All Anza Knives are handmade, each one is different in its own way. This is one reason Anza Knives are very popular among collectors.
Each Anza Knife is furnished with it's own leather sheath. In order to maintain the quality that goes into each Anza Knife, we generally make the knives as they are ordered. Please allow two to three weeks for delivery. We do not compromise quality in order to ship the knives in a hurry.