Anza Knives WK-2 File Knife w/ Kryptek Kydex Sheath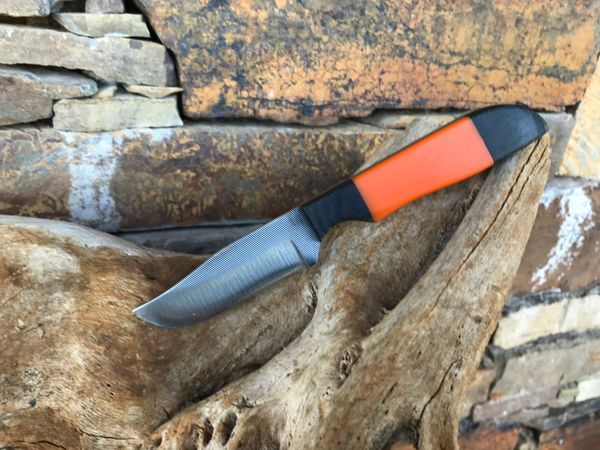 Anza Knives WK-2 File Knife w/ Kryptek Kydex Sheath
I had these made for me, you will not find them at Anza or their other Dealers. Knife comes with the factory leather sheath and one of my kydex sheaths.
I made this taco style sheath from .080 Micro Kryptek Extreme Hunter orange. The eyelets are set for a small Tek Lok (Not Included). The Tek Lok can mount in the vertical, scout and modified scout positions as well as left or right hand pull.
Built for the Collector, Priced for the Sportsman, 
Used by the Workingman. Very cool Knife. 6 1/8" overall. 2 3/4" blade made from a file which has been annealed, cold ground and polished. Full tang. Green canvas micarta handles. Leather belt sheath.
Since 1980, Anza Knives have been committed to providing top handmade affordable knives for sportsman and collectors. Anza knives are so sharp and hold an edgeso long that they have become favorite among guides, outfitters, hunters, backpackers, fishermen as well as a utility knife by the "workingman". Anza Knives are handmade, each one different in its own way. This is one reason Anza Knives are so very popular among collectors.
All Kydex products are made to imperfection by me a US Army Vet.
My products aren't perfect but i do try! I keep my retention on the stiff side.
Kydex can be adjusted with a heat gun or hair dryer but i don't recommend it. If you can't live with what you have let me know and i will talk you through an adjustment.
Tek Lok Mounting: Most of the time i use 2 holes only and every time for modified scout position. If you do not mount the Tek Lok with the right hardware and spacers you can bind the blade in the sheath making it harder to pull your knife. On the other hand, binding the Tek Lok will sometimes help with knife rattle.