Battle Horse Knives BHK S30V Chris Caine Evolution Bushcraft Hunting Camp Knife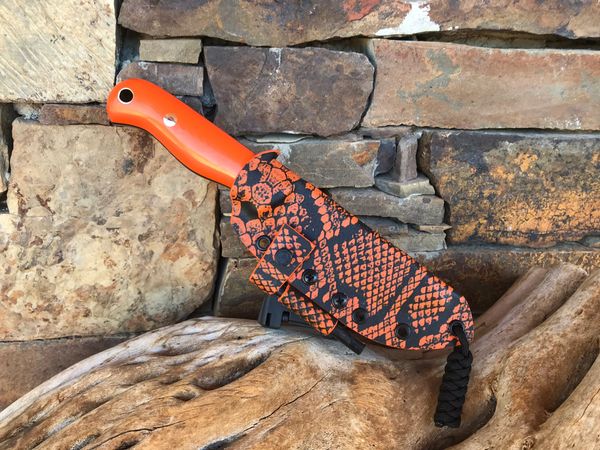 Battle Horse Knives BHK S30V Chris Caine Evolution Bushcraft Hunting Camp Knife
I am an authorized BHK Dealer.
This package includes Free Shipping in USA, the brand new S30V knife, BHK leather sheath, one of my custom Kydex sheaths with Tek Lok, emergency fire steel and 7RB Fire Cord Tie..

Listing is for a S30V (see below about the steel) Chris Caine Evolution that I had BHK custom make for me. All of the knives I order from BHK are either one off knives or customized in some way. I prefer the stainless steels because I don't want to be a slave to my knife. This knife is made of S30V and has Orange G10 scales with black liners. Knife blade has my 7RB engraved on it.
I made this taco style sheath from .080 Orange Snakeskin Kydex. The sheaths eyelets are set for a large Tek Lok and one is included. The Tek Lok can mount in the vertical, scout and modified scout positions as well as left or right hand pull. The sheath has a 7rattlesbushcraft (7RB) Fire Cord tie at the bottom and a paracord lanyard for the knife.
To use Fire Steel: Remove screw and take fire steel out of holder.
To Use Fire Cord: Cut or untie the cord (almost 2 feet of it in tie) and use as manufacture suggest.
Chris Cane Evolution
Evolution designed by Chris Caine 5/32" S30V tool steel 9 1/2" Over all length 4 1/2" Cutting edge 1 1/2" Over all height The Chris Caine signature will be engraved on the presentation side. The Evolution is a must have survival and bushcraft knife!! About Chris Caine: Chris Caine Survival was founded in 2009 by wilderness and survival expert Chris Caine. Chris previously founded 2 survival training providers; the Guildford Survival School in 1989 and in 2005, Chris founded the Trueways Survival School, where he worked alongside his mentor John "Lofty" Wiseman. Chris sold his interest in Truways in 2009 to set up Chris Caine Survival. Run by highly experienced survival experts, Chris Caine Survival offer survival courses in the UK and USA and aims to provide no-nonsense, high quality, survival instruction for to people from all walks of life with any level of experience We don't teach theoretical techniques which can't be used in the real world. We stick to proven methods which actually work when you need them. We aim to provide the knowledge and confidence required to survive unsupported in a wide variety of situations. Our courses are enjoyable, practical and informative.
CPM S30V is considered a premium grade knife steel. It is so expensive that it strongly affects the price of the knife, and is largely used in higher-end production and custom knives. Buck Knives calls it "the absolute best blade steel available". Joe Talmadge claims it might be the ultimate high-end all-around stainless steel, due to high performance coupled with easier machinability and sharpen ability than the other steels in this class. 
This series is becoming quite popular because of its strength, ability to resist rust, and how well it holds an edge. These are difficult steels to sharpen though, if you do need to give them an edge. All of these knives are very wear resistant. This type of steel is also very difficult to mirror polish, so you will almost never see it. The 30, 60, and 90 in this series stand for 3%, 6%, and 9% vanadium in the alloy respectively.
CPM S30V is a martensitic (hardened) powder-made (sintered) wear and corrosion resistant stainless steel developed by Dick Barber of Crucible Industries in collaboration with knifemaker Chris Reeve.[1][2] Its chemistry promotes the formation and even distribution of vanadium carbides, which are harder and more effective at cutting than chromium carbides.[1] These vanadium carbides give the steel a very refined grain, further improving the sharpness and toughness.[3] Despite some difficulties with a consistent heat-treat, knifemakers use CPM S30V because its composition makes it easier to grind than other powder steels although the carbides still wear down the grinder belts considerably.[4] Its composition is as follows: Carbon 1.45%, Chromium 14.00%, Vanadium 4.00%, Molybdenum 2.00%.[1] Barber received feedback from a number of other knife users and knifemakers such as Sal Glesser, Ernest Emerson, Tony Marfione, Phil Wilson, William Harsey Jr., Tom Mayo, Jerry Hossom, and Paul Bos in the development of CPM S30V.