Benchmade Mini Griptilian 557-S30V Knife w/ CPM-S30V Steel, Tanto Plain Edge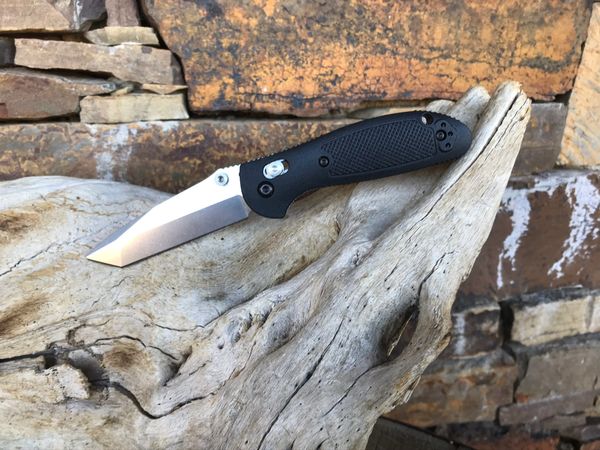 Benchmade Mini Griptilian 557-S30V Knife w/ CPM-S30V Steel, Tanto Plain Edge
I was going to make neck sheaths with this but decided against it. Knife is new and unused.
Benchmade Mini Griptilian 557-S30V Knife w/ CPM-S30V Steel, Tanto Plain Edge
HIGH-QUALITY: The CPM-S30V stainless steel blade is extremely well-balanced, offering superb edge qualities and rust resistance. The glass-filled nylon handle is tough yet attractive, making it ideal for hard jobs and everyday carry.

WELL-DESIGNED: Benchmade's AXIS lock is exceptionally strong and fully ambidextrous. The Mini Griptilian 557 is a manual knife that can be opened and closed single-handedly.

COMFORTABLE: The 557's smaller, lighter design and handle grips make it comfortable to hold, use and take anywhere. The reversible pocket clip offers ultimate accessibility.

VERSATILE: The Mini Griptilian 557's tanto blade style is mostly tactical in nature but is versatile enough for everyday use.

GUARANTEED FOR LIFE: Benchmade's limited Lifetime Warranty and LifeSharp Service keeps your knife in the best condition. If your knife needs repair or sharpening, Benchmade will take care of it. Available for knives purchased from an authorized dealer.
When it comes to all around functionality, you can't beat the Griptilian. There are more shapes, sizes and colors available in the Griptilian than any other product family from Benchmade. Intended for Rescue, Everyday or Tactical use, the Mini Griptilian 557 has a lanyard hole and a standard clip type with a reversible tip-up clip position.
LIFESHARP/WARRANTY
Proudly designed and made in the USA, every Benchmade Knife comes with a limited Lifetime Warranty and LifeSharp Service.
Our LifeSharp service is provided to you free of charge. Simply send your Benchmade to us with your carrier of choice and we'll gladly clean, oil, adjust and re-sharpen your Benchmade knife to a factory razor-sharp edge. Once your knife is serviced, we'll ship it back to you at no cost.
Technical Specifications
Designer: Pardue
Mechanism: AXIS
Action: Manual-opening
Blade Steel: CPM-S30V (58-60 HRC)
Blade Length: 2.91" (7.39cm)
Blade Thickness: 0.100" (2.54mm)
Open Length: 6.78" (17.22cm)
Closed Length: 3.87" (9.83cm)
Handle Thickness: 0.51" (12.95mm)
Weight: 2.79oz. (79.10g).