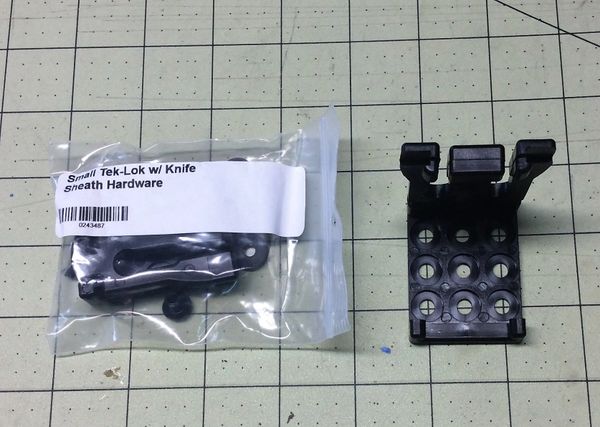 Blade Tech Small Tek Lok
This  Small Tek Lok will fit belts up to 1-1/2".  As you see it opens like a clam and will clamp onto molle straps on most backpacks and other gear. The mounting holes are at 1/2" spacing. These come with hardware but it is limited and in a lot of cases useless (sorry I didn't put them together, I buy them this way).
The photos show the 3 positions the Tek Lok will mount to MY sheaths when the eyelets have been set up for the small Tek Lok. Scout (horizontal), Modified Scout (angle) and Vertical.  On my sheaths most of the time only 2 holes are used and each time for modified scout carry (angle).
Photo shows how Tek Lok can mount to Molle strapping.
If you are buying this for one of my custom sheaths I will install for free using the correct hardware and there is no shipping charge (I will refund this).