Brand new Esee 5 5P with Custom Kydex Sheath AH-1 Sheath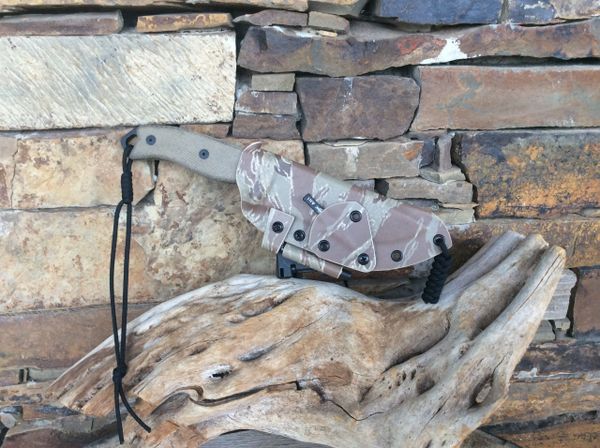 Brand new Esee 5 5P with Custom Kydex Sheath AH-1 Sheath
This is a brand new Esee 5  with one of my Kydex sheaths, AH-1 Arrowhead with sheath and an emergency fire steel  with Kydex holder. I buy these without the factory sheath.
I made this taco style sheath from .080 Desert Stripe Camo Kydex. The sheaths eyelets are set for a large Tek lok and one is included. The Tek Lok can mount in the vertical, scout and modified scout positions as well as let or right hand pull. The knife locks in with a smooth pull. This sheath also comes with an emergency fire steel and holder, a AH-1 Arrowhead with sheath, Fire Cord 7rattlesbushcraft tie and a paracord lanyard for the knife.
To use the fire steel remove screw and pull out of holder. I do recommend you leave it screwed in place and get another one to practice with. I do recommend practice!
To use Fire Cord you must cut it off the sheath and untie. There is approximately 2 feet of Fire Cord in the 7rattlesbushcraft tie. Look for red fuse looking string. Check with manufacturer for the different ways to use their product. 
ESEE-5 SPECS:
Overall Length: 11.0"
Blade Length: 5.25"
Thickness: .25"
Steel: 1095 Carbon, 55-57 Rc
Finish: Textured Powder Coat
Blade Width: 1.56"
Grind: Saber
Weight (Knife Only): 16 Ounces
Handles: Canvas Micarta
Sheathing:  None
Features: Glass Breaker, Bow Drill Divot
Spine: Thumb Jimping
Our knives are made from high carbon 1095 steel. And while 1095 is a top choice for professional cutlery designed for hard use, it will rust and stain if not properly cared for - especially on the cutting edge and around the laser engraving. It is the user's responsibility to keep the blades properly lubricated and cleaned. We suggest using a dry film rust inhibitor such as TUF-GLIDE or TUF-CLOTH.