Busse Combat Knives Park Ranger BG Green Micarta Free Kydex Sheath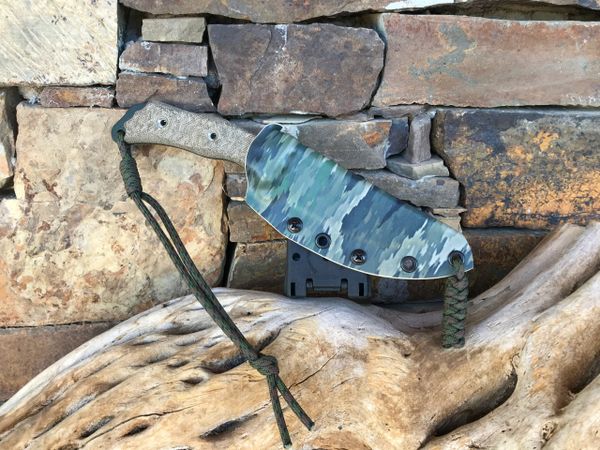 Busse Combat Knives Park Ranger BG Green Micarta Free Kydex Sheath
Brand new Busse Combat Knives park Ranger BG with one of my kydex sheath and large Tek Lok.
I made this taco style sheath from .080 ATACS IX kydex. A large Tek Lok is included. The Tek Lok can mount in the vertical, scout, and modified scout positions as well as left or right hand pull. The knife locks in with a smooth pull. The sheath has a 7rattlesbushcraft paracord tie and a lanyard for the knife.
Makes a great EDC rig! Nice seems like a very good size not too big not too small.
Specs:
OAL: Approx. 8.4"
Blade Length: Approx. 4"
Steel: INFI or SR-101
Hardness: 58-60 Rc
Blade Width at Widest point: Approx. 1.3"
Thickness: Approx. .145"

Busse Combat is proud to introduce this thin EDC with a very ergonomic, full-length handle.
It features a thinly ground drop point blade that makes it perfect for use as a skinner or EDC.
The Park Ranger is being offered in both INFI and SR-101 steel in a wide, saber ground platform, making it tough enough to handle whatever you throw at it.
The SR-101 Battle Grade version is being offered in a coated version ONLY.

Blade Color Forest Green
Handle Green Micarta
SR-101 Steel:
SR-101 Steel is the combination of an extremely fine-grained tool steel and a proprietary multi-step tempering protocol. This process includes the incorporation of a deep cryogenic treatment for grain refinement which adds greatly to the overall toughness and strength of what will most certainly prove to be your favorite blade.