Esee Knives AGK Ashley Game Hunter w/ Custom Kydex Sheath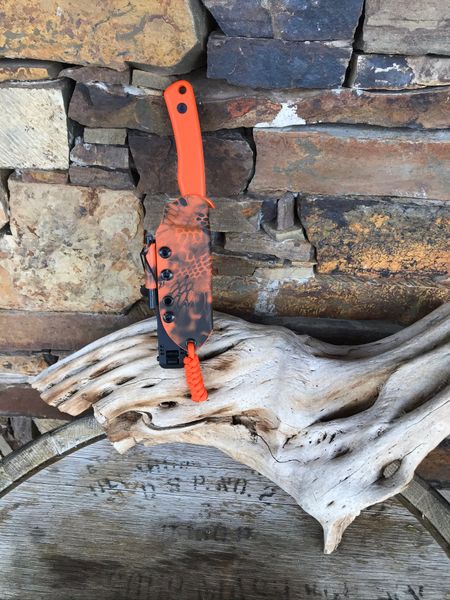 Esee Knives AGK Ashley Game Hunter w/ Custom Kydex Sheath
Free Shipping USA Only! Canada and Overseas please read my shipping policy...
Brand new knife with one of my custom sheaths, a small Molle Lok, a small emergency fire steel and a 7RB Fire Cord tie at the bottom all for right around what Esee charges. Includes factory leather sheath.
I made this taco style sheath from .080 Kryptek Extreme Hunters Orange Kydex. This sheath was built to this knife. The eyelets are set for a large Tek Lok. The Tek Lok can mount in the vertical, scout and modified scout positions as well as left or right hand pull. Sheath has a small Molle Lok, a small Fire steel and a 7RB Fire Cord tie.
To use Fire Cord cut or untie the tie. Pull red strand from cord and use to Fire Cords instructions. There is right around 2 ft. of Fire Cord in the tie.
From Esee:
When ESEE finally decided to make knives specifically for hunters, we sought advice and opinions from some of the best in the industry, and the new Ashley Game Knife (AGK) was designed by Ashley Emerson.  As a guide and hunter from Alaska to Africa, Ashley has had opportunities to deal with hundreds of deer, many more wild hogs, and other animals from squirrels to buffalo. As he has with guns, he's used many different knives and modified them to fit what works, and the AGK was born from his vast experience handling game in the field. The lengths of both the blade and the handle have been optimized for leverage for jobs like splitting a sternum. The handle incorporates a guard, a full tang, a proven grip shape, and a radiused lanyard hole large enough for a loop of 550 cord. The scales are Canvas Micarta (orange G10 also available), which is a solid handle material that doesn't slip when wet. Ashley has used a wide variety of scale materials, and he prefers Micarta for working knives, as the grip and feel is way more important when working game than the scales being impervious to sweat, blood, and other fluids. Like the stone-washed black-oxide blade, the scales develop a great "worn-in" look with use. The blade width allows for working inside the pelvic cavity of the average whitetail, and the subtle sweep of the blade places the point in line with the handle. This still allows an optimal drop point and an edge that is continually curved.  With no sharpening notch at the choil, you won't have to worry about the knife catching on hides.
Overall Length: 8.25"
Blade Length: 3.5"
Thickness: .156"
Weight: 5.1 Ounces
1095 High Carbon Steel, 55-57 Rc.
Finish: Black Oxide Stone Washed

Handles: Canvas Micarta or G10

Sheath: Leather

Made in the U.S.A.

No Questions Asked Lifetime Warranty