Esee Knives Esee 4 Knife AH-1 Arrowhead w/ Custom Hexcam Kydex Coffin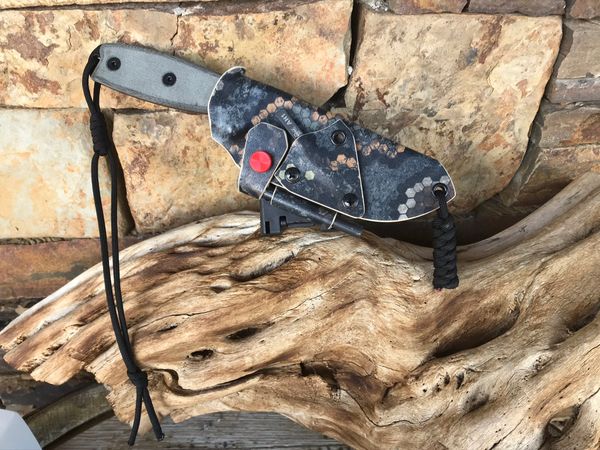 Esee Knives Esee 4 Knife AH-1 Arrowhead w/ Custom Hexcam Kydex Coffin
This is a new ESEE-4P-KO and one of my custom Kydex sheath rigs. I buy these new without the factory sheaths from ESEE.
I made this taco style sheath from .080 Hexcam Spectre13 3D. The large Tek Lok which is included, is mounted in the right hand cross draw, modified scout position. The Tek Lok can mount in the vertical and horizontal positions as well as left or right hand pull.
Sheath has an emergency fire steel with matching holder, a ESEE AH-1 Arrowhead with matching sheath and a 7RB Fire Cord tie at the bottom. I'm even including your own coffin for your arrowhead in case you need to take it with you, wherever or whenever you umm go?
This sheath would cost $106.99 and that's without the coffin...
To remove the AH-1 you must remove the fire steel from holder first.
To remove the fire steel, unscrew the screw.
To use 7RB Fire Cord tie, cut or untie the Fire Cord. There is about 2 feet of fire cord in the tie. Look up Fire Cord website on the different ways to use it.
The ESEE-4 is one of the most popular ESEE knives ever made. With its 3/16″ thickness, it's the perfect blend between toughness and cutting efficiency all in a small package. If you can only choose one, then the ESEE-4 is the do-all workhorse of the ESEE line.

ESEE-4 SPECS:
Overall Length: 9.0″
Cutting Edge Length: 4.1″
Overall Blade Length: 4.5″
Blade Width: 1.25″
Weight (Knife Only): 8.0 ounces
Drop Point Blade Style
Maximum Thickness: .188″
1095 Carbon Steel, 55 – 57 Rc. (Carbon Steel Models)
Removable Handles
Rounded Pommel w/ Lanyard Hole