Fiddleback Forge By AR Esquire A2 Knife w/ Coffee Bag Burlap Handles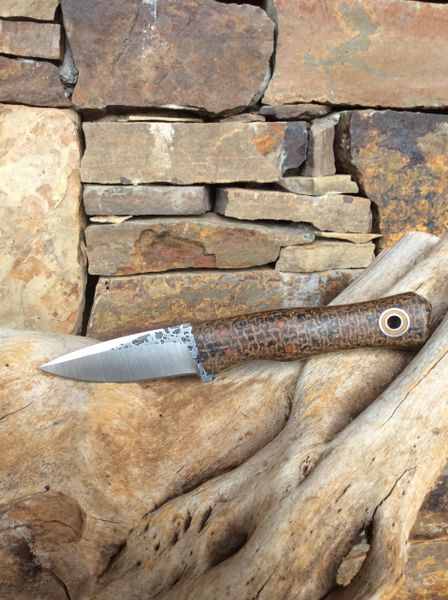 Fiddleback Forge By AR Esquire A2 Knife w/ Coffee Bag Burlap Handles
I am one of Fiddleback Forges newest dealers!
Brand new knife, this is the Esquire model that is made of A2 Tool Steel. The handle is made of Coffee Bag Burlap Micarta and has natrual and yellow liners. The knife is 6-3/8" overall and has a 2-3/4" blade that is 1" wide and 1/8" in thickness.
Comes with one of my custom Taco style .080 Hexcam 3D Spectre Kydex sheaths with yellow Kydex liner. Eyelets are set for ma small Tek Lok.
A-2 Steel. An excellent air hardening tool steel used by handmade knife makers and by speciality makers like Bark River as well. A-2 is a steel that trades wear resistance for toughness. It is used in custom made fighting knives by makers such as Phill Hartsfield, Mike Snody and John Fitzen (Razor Edge US). Performs best at about 60-61 Rc (see hardness). It contains about 1% Carbon, 1% Molybdenum, and 5% Chromium.