Ka Bar Dogs Head Knife w/ Free Black Taco Kydex Sheath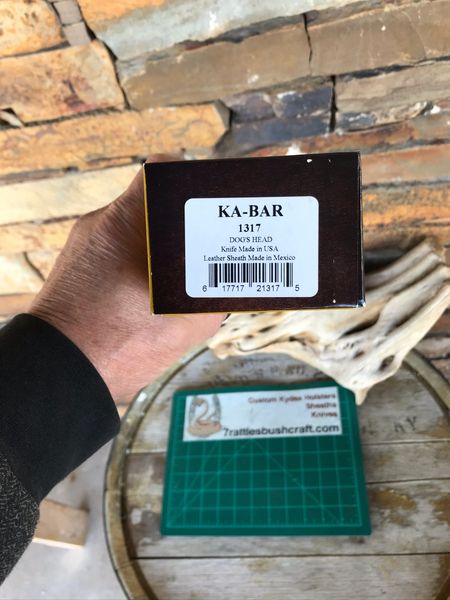 Ka Bar Dogs Head Knife w/ Free Black Taco Kydex Sheath
Free Shipping USA Only! Canada and Overseas please read my shipping policy!
I will make buyer a free taco style black Kydex sheath fit to this knife. Sheath will be rattle free, eyelets set for a large Tek Lok (not included) and a smooth pull. The Tek Lok can mount in the vertical, scout and modified scout positions as well as left or right hand pull. Sheath only, all other attachments or upgrades are extra. This sheath  can have a hidden fire steel $10.
My opinion on this knife...
A really good production knife make with great materials. I prefer this over the the similar Ka Bars because of the more robust Dogs Head and  blade guard(see photos). I can make sheaths for this knife and I feel comfortable about the fit because the guard is a lot less likely to get bent while the other knives guard comes bent. The Kydex has to grab the guard for retention, if it is bent out of shape the sheath will not for as intended. I do make custom Kydex sheaths for this model without the knife. I can only make sheaths for the similar models and sell them with the knife to ensure a good fit out the door.
The Dog's Head Utility Knife, a close relative of the USMC Fighting/Utility knife, presents an alternative to those who wish to have the legendary performance of KA-BAR's military knives in a non-military setting. Ideal for bushcraft, camping, and hunting, the Dog's Head Utility knife is a welcome addition to KA-BAR's robust lineup. Sold with brown leather Dog's Head Pirate sheath. Made in the USA.
Handle Color: Brown