Landi Knives PSK A2 Pesonal Survival EDC Knife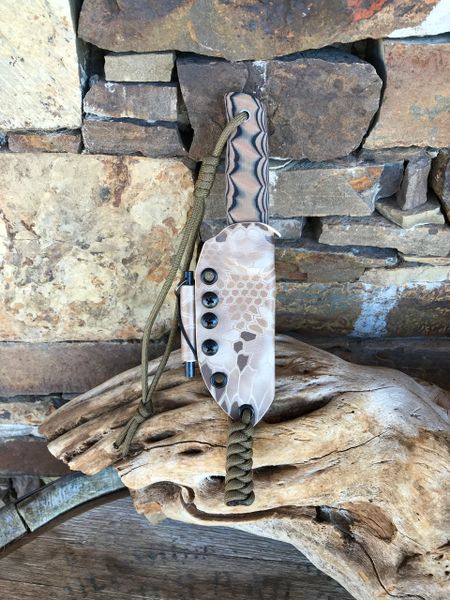 Landi Knives PSK A2 Pesonal Survival EDC Knife
Very nice little A-2 steel (see below) Personal Survival Knife with Landi pancake sheath and one of my custom kydex rigs. Great little rig for backpacking, hunting, camping etc. I set it up with an emergency fire steel and some Fire Cord just in case of an emergency. I have the matching one of these hanging from my rear view mirror.
I made this taco style sheath from .080 Kryptek Nomad Kydex. The sheaths eyelets are set for a small Tek Lok (not included). The Tek Lok will mount in the vertical, scout and modified scout positions as well as left or right hand pull. The sheath comes with an emergency fire steel and a 7rattlesbushcraft Fire Cord tie.
Landi Knives strives to create tools that can be useful to a variety of people. Our knives stand up to hard abuse and will last a lifetime. Our goal is to make high end cutlery accessible to all end users.With this philosophy in mind, Landi Knives are used around the world in every situation where people reach for a knife—bush whacking, camping, hunting, survival, law enforcement, military operations, food prep and many more.
The knife is 6 5/8" overall. 2 7/8" A2 tool steel blade. Full tang. Tan and black G10 handles. Lanyard hole. Black molded Kydex sheath with black nylon strap with buckle closure.
A2 Steel - This is very tough steel. However, it has less wear resistance than other tool steels. This steel is often used for custom made combat knives because of its toughness. It has a carbon content range of 0.95-1.05%. This steel does not contain lots of chromium (typically around 5%) and needs to be maintained carefully to avoid rust. It will often be coated on a knife blade to avoid this issue.
All Custom Kydex Products are built to imperfection by me a US Army Vet. My products are not perfect but i do try.