Mineral Mountain Hatchet Works MMHW Mississippi Gambler Knife 5160 Knife Black Handle W/ Custom Kydex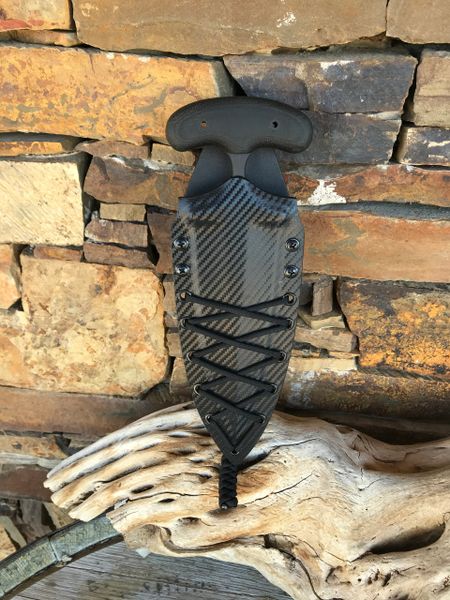 Mineral Mountain Hatchet Works MMHW Mississippi Gambler Knife 5160 Knife Black Handle W/ Custom Kydex
Free Shipping USA Only!! Canada and Overseas please read my shipping policy...
New knife with custom Kydex.
I made this pancake style sheath from .080 Black  Carbon Fiber Kydex. Sheath comes with a dropped Kydex piece with metal belt clip.
Powerful self-defense at hand when you need it. Knives are made of 5160 high carbon steel. Differentially hardened, double ground, and sharpened to perfection. Please be aware of the laws in your vicinity regarding double edge blades before you order.
Available with black or natural phenolic handle scales. Standard scale fasteners are steel friction pins as pictured in the small Mississippi Gambler model [see last pic].
Brass pins as shown in the large model are available as a $20 added cost option.
Length Overall: 9 ½ inches
Blade Length: 7 inches
Blade Width: 2 ¾ inches
Thickness: ¼ inch
Weight: Approx. 1.5 pounds sheathed
Over 35 years of development has gone into these knives. All MMHW knives, swords, and axes are made "to order" for hard use with 5160 high carbon steel and are finished with a non-glare, rust-resistant parkerization. Bead blast finish is available upon request. Deep hollow grinds and great geometry make these knives excel at cutting or chopping.
Ted Frizzell, the master Arkansas knife maker behind Mineral Mountain Hatchet Works, has over 35 years experience producing some of the finest handmade working grade knives and custom handmade knives available. He has created well over 6000 knives, 2500 axes, and 600 swords. Ted has become well known for his hardworking big bowies and swords both nationally and internationally.
5160 A steel popular with forgers, it is extremely popular now and a very high-end steel. It is essentially a simple spring steel with chromium added for hardenability. It has good edge holding, but is known especially for its outstanding toughness (like L-6). Often used for swords (hardened in the low 50s Rc) because of its toughness, and is also used for hard use knives (hardened up near the 60s Rc).