MMHW 5" Bullnoser 5160 Knife W/ Custom Kryptek Kydex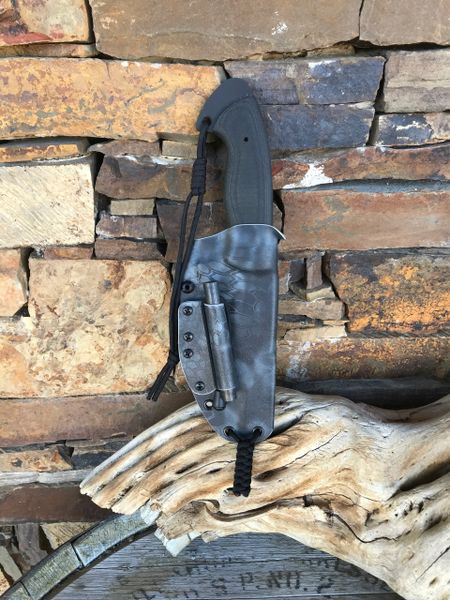 MMHW 5" Bullnoser 5160 Knife W/ Custom Kryptek Kydex
Free Shipping USA Only!! Canada and Overseas please read my shipping policy...
New Mineral Mountain Hatchet Works 5" Bullnoser Knife with a taco style .080  in Kryptek Typhon sheath and large Tek Lok. Sheath also comes with a fire steel and 7RB Fire Cord tie.
Over-all length - 11-1/2 inches

Blade length - 5 inches

Steel thickness - 1/4 inch
About the knife and steel below..
Here is a very popular pattern, well balanced and super sharp. A powerful chopping and cutting blade. Darn near indestructible. Deep hollow grind, differentially hardened, and then parkerized for protection against corrosion. Very sharp. Handle scales are of black or natural phenolic held to the tang with epoxy resin and two steel roll pins. Bird's beak pommel with lanyard hole. 
The knife is 14 inches Overall. It has an 8 inch blade that is 2 ½ inches wide. Made of 1/4 inch thick 5160 high carbon tool steel. It weighs 1 pound, 13 ounces sheathed.