MMHW Black Jack 10" 5160 Bowie with Kydex Sheath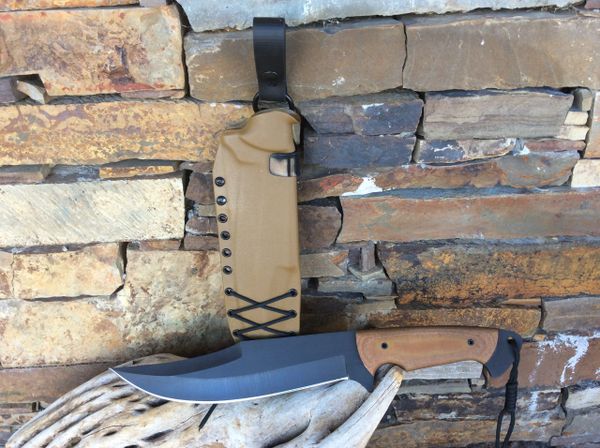 MMHW Black Jack 10" 5160 Bowie with Kydex Sheath
Up for sale is a brand new MMHW Black Jack Bowie knife the factory Kydex sheath and one of my custom kydex sheaths.

I'm very impressed with MMHW Knives, made in the USA by some super friendly people out of some great materials. You could use these knives as a railroad spike if necessary ! Pound in with a sledge hammer, pull it up when finished lol! 
I made this taco style sheath from .080 Coyote Brown Kydex. The eyelets are set for a large tek lok (not included). The tek lok can be mounted directly onto the sheath in the vertical or horizontal position as a well as left or right hand. This sheath comes with a dangler attachment an snap belt loop.  Knife has great retention with a smooth pull but takes getting use to it.  Sheath has a 7rattlesbushcraft Paracord tie for luck and the knife has a lanyard.
See more blades from this fine company at mineralmountain.com.
The knife is 17 inches long with a 10" inch blade. It is 2-1/4" inches wide. Made of  1/4" inch thick 5160 high carbon tool steel. Wide hollow grind, differentially hardened, and then parkerized for protection against corrosion. Handles are of tan phenolic held to the tang with epoxy resin and 2 steel friction roll pins.  Exposed 'skull-crusher' pommel with ¼ inch lanyard hole. Two-piece kydex sheath with brass grommets and belt loop. Built for powerful penetration and MMHW sharp!
Tek Lok mounting; make sure you install the rubber washers between the Tek Lok and sheath. The Tek Lok can bind the sheath making the pull harder if you tighten too much or install the Tek Lok improperly.  Most of the time I use 2 holes only on the Tek Lok and every time for modified scout carry! I haven't had one break!
I triple tape the blades of my knives to try to prevent Kydex rub it does not always work and can cause knife rattle. If you are worried about rub marks on your blade Kydex is probably not for you. If you are worried about knife rattle please let me know I can fine tune the sheath before I send it out. Please let me know any concerns you might have with your sheath and I would like to hear back from you on how everything fits. Most knives are hand ground and sharpened so each one is slightly different.
All products are handcrafted to imperfection by me a US Army Vet no two are the same so I do take individual photos of each item so you get what's in the photos. My products are not perfect but I do try. I set my retention on the stiff side so you don't lose your knife. Retention and fit can be adjusted with a heat gun or hair dryer but I do not suggest doing it. If you can't live with what you have please contact me and I will help you through it.
We are TOPS KNIVES, ESEE KNIVES and ANZA KNIVES newest authorized dealer. All of our brand new knives come with a custom Kydex sheath built to the exact knife. I can order most brands of new knives and make a Kydex sheath for it please ask if interested.