MMHW Cut n Run 1084 Drop Point Spear Point Tanto Point Wharncliffe You choose Knife Sheath Free Fire Steel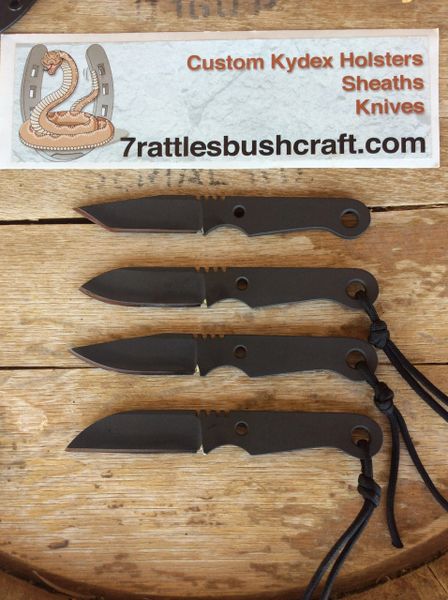 MMHW Cut n Run 1084 Drop Point Spear Point Tanto Point Wharncliffe You choose Knife Sheath Free Fire Steel
You can pick knife style, sheath style, sheath color (solid) and Fire Cord color.
Just got these in from MMHW, made from 1084 steel (see below) these are Teds "Cut n Runs" Tanto Point, Spear Point, Drop Point, Wharncliffe models.
All sheaths are made from .080 Kydex and the eyelets are set for a small Tek Lok (not included). The Tek Lok can mount in the vertical, scout and modified scout positions as well as left or right hand pull. Sheath comes with Mini fire steel and matching holder, knife comes with Fire Cord lanyard.
To use Fire Cord untie lanyard and use according to Fire Cords instructions. https://www.livefiregear.com/
Cut n Runs
Overall length- 7 inches
Blade length- 3-3/16 inches
Blade Width- 1"
Blade Thickness- 3/16
Blade Material- 1084 Carbon Steel
From Mineral Mountain Hatchet Works.....
Ted Frizzell, the master Arkansas knife maker behind Mineral Mountain Hatchet Works, has over 35 years experience producing some of the finest handmade working grade knives and custom handmade knives available. He has created well over 6000 knives, 2500 axes, and 600 swords. Ted has become well known for his hardworking big bowies and swords both nationally and internationally. Satisfaction guaranteed.
Over 35 years of development has gone into these knives. All MMHW knives, swords, and axes are made "to order" for hard use with 5160 high carbon steel and are finished with a non-glare, rust-resistant parkerization. Bead blast finish is available upon request. Deep hollow grinds and great geometry make these knives excel at cutting or chopping.
MMHW products are guaranteed for life against defects in materials or workmanship. We will repair or replace [at our option] any defective merchandise at no charge. Please contact us via email or phone for refund.
Product Description
A classic forging steel thought to be almost non-existent, now available through NJ Steel Baron, LLC. Since 1084 is a high carbon steel, it will rust and tarnish if not properly taken care of. Our 1084 comes pickled and annealed, being a eutectoid steel it is simple to heat treat and highly recommended for beginning makers and seasoned smiths alike. Also widely used in damascus steel production.
Chemistry/Certification
Certification: C- .876 Si- .274 Mn- .803 P- .0100 S- .0040 Cr- .153 Ni- .037 Mo-.007 V- .004 W- .003 Cu- .037 Sn- .0030 Al- .006 Annealed Structure: 95% spherodized carbides