MMHW 1997 Fighting Knife Bowie Rare W/ 2 Kydex Sheaths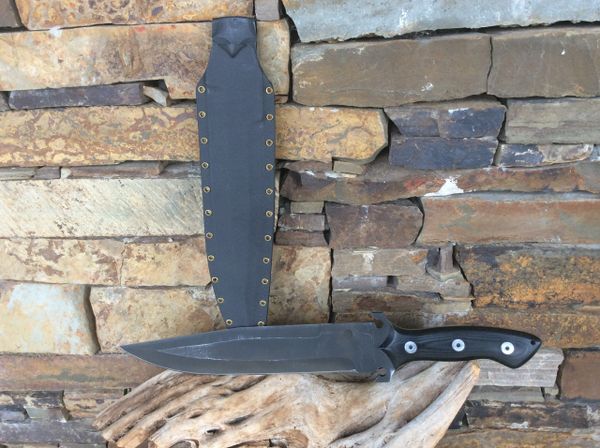 MMHW 1997 Fighting Knife Bowie Rare W/ 2 Kydex Sheaths
Up for sale is a 1997 Rare  MMHW Integral  Guard Fighter Bowie Knife the factory Kydex sheath and one of my custom kydex sheaths.
I made the taco style sheath with .080 Kryptek Raid Kydex. The eyelets are set for a large Tek Lok. The Tek Lok can mount in the vertical, scout and modified scout positions as well as left or right hand pull. Knife locks in and has a smooth pull. Buyer can choose a dangler attachment with snap belt loop or a dropped kydex piece with large Tek Lok...
MMHW original Sheath has zero retention!!
I'm very impressed with MMHW Knives, made in the USA by some super friendly people out of some great materials. You could use these knives as a railroad spike if necessary ! Pound in with a sledge hammer, pull it up when finished lol! I have a few more of their models and 1 axe but am planing on placing another order soon.
This is an extremely hard to find rare knife from 90-s The knife is huge, you can take a bear/zombie with this knife. The knife was made in the middle of 90-s by MMHW by Ted Frizzell. The knife is forged of 5160 steel billet and hardened to 57-59 RC. Awesome Micarta scales on the handle.  The knife was never been used just handling marks and traces of being moved in and out of the sheath.
The knife is 18-1/2 inches long with a 12-1/2" inch blade. It is 3" inches at widest point. Made of  1/4" inch thick 5160 high carbon tool steel. Wide hollow grind, differentially hardened, and then parkerized for protection against corrosion. Handles are of black Micarta and held to the tang with 3 stainless screws with ¼ inch lanyard hole. Two-piece kydex sheath with brass grommets and belt loop. Built for powerful penetration and MMHW sharp!
5160 A steel popular with forgers, it is extremely popular now and a very high-end steel. It is essentially a simple spring steel with chromium added for hardenability. It has good edge holding, but is known especially for its outstanding toughness (like L-6). Often used for swords (hardened in the low 50s Rc) because of its toughness, and is also used for hard use knives (hardened up near the 60s Rc).