MMHW Mineral Mountain Hachet Works Custom 8" Bullnoser Knife Tan Handle Free O1 Back Up Baby Necker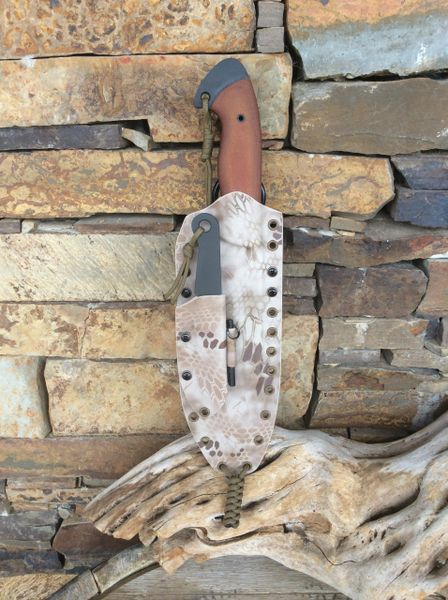 MMHW Mineral Mountain Hachet Works Custom 8" Bullnoser Knife Tan Handle Free O1 Back Up Baby Necker
Free MMHW O1 Tool Steel Back Up Baby Necker with purchase! Ted saved this O1 for over 20 years and made these neckers only for me. If you know MMHW Knives they NEVER (almost) use O1. Sure to be a collectors item. I'm selling less than 10 of them the rest I will be giving away!
Listing is for a New MMHW 8" Bullnoser 5160 (see below) knife, 1084 Drop Point Cut N Run knife, mini fire steel and holder, 2 attachments.
I made this pancake style sheath from .080 Kryptek Nomad Kydex. The eyelets are set for a large Tek Lok not included. The knife locks in with a smooth pull. A dangler attachment with snap belt loop is included and will fit up to a 2" belt. I've also added a Baldric Carry Attachment. Winter is on its way and you can throw this rig on over all those clothes and go! 4 screws is all that you need to mess with to change from one attachment to the other. Included is a 1084 Carbon Steel Cut N Run knife piggybacked onto the main sheath with a matching taco style sheath. The knife in photo is the Drop Point but buyer can choose the Wharncliffe, Spear Point or Tanto. So you don't have to use the big 8" blade to make fire I've added a mini fire steel on with the Cut N Run knife.
With the Baldric Carry attachment I have found most range or gym bag straps with hooks on the end will work nicely. I do have a rubber imbedded ballistic nylon strapping that I use. Stuff is incredibly strong. Punch a hole in it and you can mount about anything you want to carry. Let your imagination run wild here...

These knives all have a rugged beauty! The craftsmanship really shows this man knows what he is doing and does it very well!! There is a lot of work that goes into these knives verses a flat ground out the door knife.
Absolutely a fantastic value for collector or abuser (like me).
New MMHW Bullnoser Knife with Kydex sheath.
Over-all length - 14 inches
Blade length - 8 inches
Steel thickness - 1/4 inch
Ted Frizzell, the master Arkansas knife maker behind Mineral Mountain Hatchet Works, has over 35 years experience producing some of the finest handmade working grade knives and custom handmade knives available. He has created well over 6000 knives, 2500 axes, and 600 swords. Ted has become well known for his hardworking big bowies and swords both nationally and internationally.
Over 35 years of development has gone into these knives. All MMHW knives, swords, and axes are made "to order" for hard use with 5160 high carbon steel and are finished with a non-glare, rust-resistant parkerization. Bead blast finish is available upon request. Deep hollow grinds and great geometry make these knives excel at cutting or chopping.
MMHW products are guaranteed for life against defects in materials or workmanship. We will repair or replace [at our option] any defective merchandise at no charge. Please contact us via email or phone for return instructions.
All sheaths and holsters are handcrafted to imperfection by me, a US Army Vet. No two are the same nor are they perfect but I do try and care! I take individual photos of each item and you get what's in the photos!
Most knives are hand ground and sharpened so to get the very best fit with Kydex the best option is buy you knife with the sheath made to the exact knife and that is what I do!!
5160
A steel popular with forgers, it is extremely popular now and a very high-end steel. It is essentially simple spring steel with chromium added for hardenability. It has good edge holding, but is known especially for its outstanding toughness. Often used for swords (hardened in the low 50s Rc) because of its toughness, and is also used for hard use knives (hardened up near the 60s Rc).
Carbon-0.56-0.64%, Manganese-0.75-1.00%, Chromium-0.70-0.90%