MMHW ECG Variant 1 Kukri 5160 Knife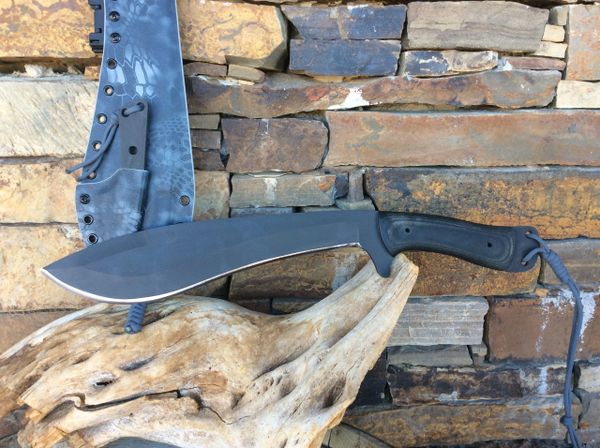 MMHW ECG Variant 1 Kukri 5160 Knife
ECG Variant 1 Custom Khukri    12 " blade  18" OAL, 1/4" Thick,  Black Phenolic handles.
This item can be back ordered!
I made this pancake style sheath from .093 Kryptek Typhon Kydex. The sheaths eyelets are set for a Large Tek Lok and one is included. The Tek Lok can mount in the vertical and scout positions as well as left or right hand pull. The kukri locks in with a pretty smooth pull. There is a large Emergency Harpoon/Knife with matching sheath piggybacked onto the Kukri sheath.  Paracord wrap on the sheath with a 7rattlesbuchcraft tie for luck. Kukri gets a paracord lanyard.
  MMHW is a second generation shop. We have 40 plus years combined experience producing extreme usage cutlery, full bore field ready tools you can count on. We do not offer " bells and whistles" that only drive the cost of the product up. Function is our byword. If it does not function there is no fun and chances are if it isn't fun then it probably doesn't function. 
    All materials for our cutlery line up are USA sourced. 5160 spring steel is our steel of choice, zone hardened in the edge to 56-58 on the Rockwell scale. Kydex is our sheathing material and Canvas Phenolic Laminates are the handling material we utilize. Blades are blasted and Parkerized Black using Lauer parkerizing products. All edged tools from MMHW are 100% guaranteed, for materials and workmanship. All problems will be settled by repair or replacement at our choice. We use USPS Priority Shipping and normally ship the day after the auction ends, unless that is on a Saturday or during a holiday season. Questions are encouraged and will be answered ASAP.  
Tek Lok mounting; make sure you install the rubber washers between the Tek Lok and sheath. The Tek Lok can bind the sheath making the pull harder if you tighten too much or install the Tek Lok improperly.  Most of the time I use 2 holes only on the Tek Lok and every time for modified scout carry! I haven't had one break!
I triple tape the blades of my knives to try to prevent Kydex rub it does not always work and can cause knife rattle. If you are worried about rub marks on your blade Kydex is probably not for you. If you are worried about knife rattle please let me know I can fine tune the sheath before I send it out. Please let me know any concerns you might have with your sheath and I would like to hear back from you on how everything fits. Most knives are hand ground and sharpened so each one is slightly different.
All Kydex products are handcrafted to imperfection by me a US Army Vet no two are the same so I do take individual photos of each item so you get what's in the photos. My products are not perfect but I do try. I set my retention on the stiff side so you don't lose your knife. Retention and fit can be adjusted with a heat gun or hair dryer but I do not suggest doing it. If you can't live with what you have please contact me and I will help you through it.