MMHW Karambit Tanto 5160 Knife Tan Handle Coyote Brown Kydex Sheath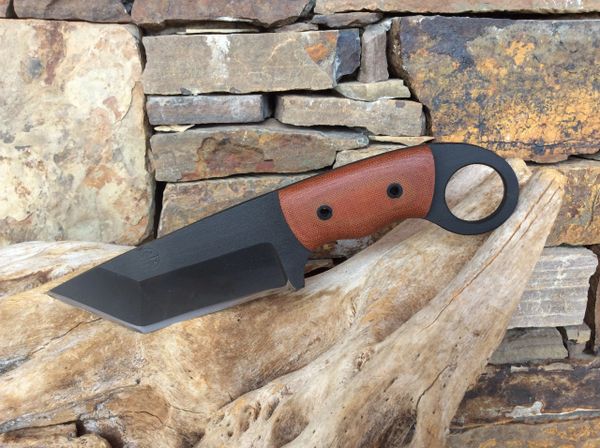 MMHW Karambit Tanto 5160 Knife Tan Handle Coyote Brown Kydex Sheath
This item can be back ordered if I run out of stock.
Listing is for a New MMHW  Karambit Tanto knife and one of my Kydex sheaths with Tek Lok. 
Like all of MMHW products built to beat a tank! Made from awesome 5160 carbon steel (see below).
I made this taco style sheath from .080 Coyote Brown Kydex. The eyelets are set for a large Tek lok and one is included. The Tek Lok will mount in the vertical, scout, and modified scout positions as well as left or right hand pull. The knife locks in with a smooth pull.
Deck knife,   4 1/2" blade, 8" OAL, 3/16" Thick  1 3/4" wide blade.  Black Phenolic handles
 MMHW is a second generation shop. We have 40 plus years combined experience producing extreme usage cutlery, full bore field ready tools you can count on. We do not offer " bells and whistles" that only drive the cost of the product up. Function is our byword. If it does not function there is no fun and chances are if it isn't fun then it probably doesn't function. 
 All materials for our cutlery line up are USA sourced. 5160 spring steel is our steel of choice, zone hardened in the edge to 56-58 on the Rockwell scale. Kydex is our sheathing material and Canvas Phenolic Laminates are the handling material we utilize. Blades are blasted and Parkerized Black using Lauer parkerizing products. All edged tools from MMHW are 100% guaranteed, for materials and workmanship. All problems will be settled by repair or replacement at our choice. We use USPS Priority Shipping and normally ship the day after the auction ends, unless that is on a Saturday or during a holiday season. Questions are encouraged and will be answered ASAP. 
5160 A steel popular with forgers, it is extremely popular now and a very high-end steel. It is essentially a simple spring steel with chromium added for hardenability. It has good edge holding, but is known especially for its outstanding toughness (like L-6). Often used for swords (hardened in the low 50s Rc) because of its toughness, and is also used for hard use knives (hardened up near the 60s Rc).