MMHW Mineral Mountain Hachet Works Mini Mountain Series Daggette Knife Black Handle Free O1 Back Up Baby Necker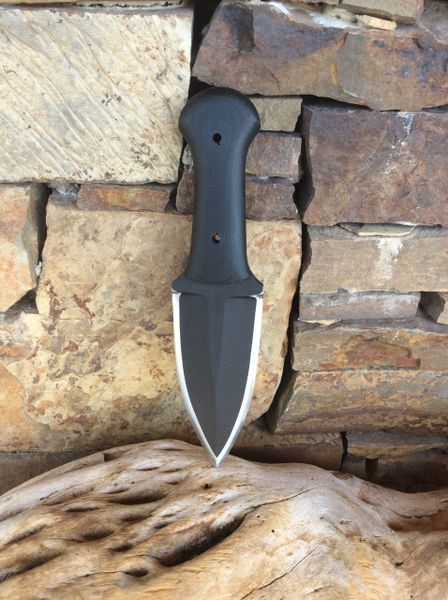 MMHW Mineral Mountain Hachet Works Mini Mountain Series Daggette Knife Black Handle Free O1 Back Up Baby Necker
Brand new model in the Mini Mountain Series this is a "Daggette".
Comes with one of my custom sheaths and large Tek Lok.
I made this pancake style sheath from .080 Kryptek Typhon Kydex. The sheaths eyelets are set for a large Tek Lok and one is included. The Tek Lok can mount in the vertical, scout and modified scout positions as well as left or right hand pull. The Daggette locks in with a smooth pull.
Daggette
Overall length- 7-1/4" inches
Blade length- 3-3/4 inches
Blade Width- 1-3/4 inches
Blade Thickness- 1/4 inches
Ted Frizzell, the master Arkansas knife maker behind Mineral Mountain Hatchet Works, has over 35 years experience producing some of the finest handmade working grade knives and custom handmade knives available. He has created well over 6000 knives, 2500 axes, and 600 swords. Ted has become well known for his hardworking big bowies and swords both nationally and internationally.
Over 35 years of development has gone into these knives. All MMHW knives, swords, and axes are made "to order" for hard use with 5160 high carbon steel and are finished with a non-glare, rust-resistant parkerization. Bead blast finish is available upon request. Deep hollow grinds and great geometry make these knives excel at cutting or chopping. Kydex sheaths come standard as right-side vertical carry unless otherwise specified.
5160 A steel popular with forgers, it is extremely popular now and a very high-end steel. It is essentially a simple spring steel with chromium added for hardenability. It has good edge holding, but is known especially for its outstanding toughness (like L-6). Often used for swords (hardened in the low 50s Rc) because of its toughness, and is also used for hard use knives (hardened up near the 60s Rc).