MMHW Lil Prick Karambit 5160 Knife Tan Handle Tan Kydex Sheath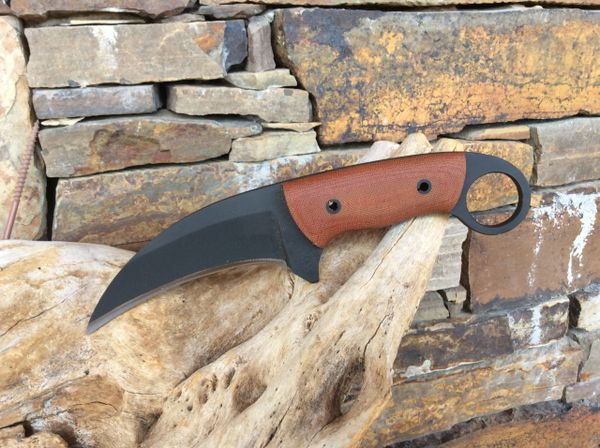 MMHW Lil Prick Karambit 5160 Knife Tan Handle Tan Kydex Sheath
Listing is for a New MMHW  Lil Prick Karambit knife and one of my Kydex sheaths with Tek Lok. 
If you love MMHW Products get ready for Teds new Mini Mountain Series of knives. For all of you who have bought Teds awesome huge knives you're going to want to watch for a mini ette version!
Like all of MMHW products built to beat a tank! Made from awesome 5160 carbon steel (see below).
I made this taco style sheath from .080 Desert Tan Kydex. The eyelets are set for a large Tek lok and one is included. The Tek Lok will mount in the vertical, scout, and modified scout positions as well as left or right hand pull. The knife locks in with a smooth pull.
New design from Ted Frizzell. The perfect small personal companion knife. Fits nicely in the cargo pocket or into the purse, back pack, fanny pack, car console, or wherever you need a tough, sharp working knife. Small enough to conceal well and MMHW sharp!
MMHW Lil Prick
Overall Length - 8-3/8 inches
Blade length - 4-1/4 inches
Blade Width- 2 inches at widest part
Steel thickness - 3/16 inch
Ted Frizzell, the master Arkansas knife maker behind Mineral Mountain Hatchet Works, has over 35 years experience producing some of the finest handmade working grade knives and custom handmade knives available. He has created well over 6000 knives, 2500 axes, and 600 swords. Ted has become well known for his hardworking big bowies and swords both nationally and internationally.
Over 35 years of development has gone into these knives. All MMHW knives, swords, and axes are made "to order" for hard use with 5160 high carbon steel and are finished with a non-glare, rust-resistant parkerization. Bead blast finish is available upon request. Deep hollow grinds and great geometry make these knives excel at cutting or chopping. 
MMHW products are guaranteed for life against defects in materials or workmanship. We will repair or replace [at our option] any defective merchandise at no charge. Please contact us via email or phone for return instructions.
5160 A steel popular with forgers, it is extremely popular now and a very high-end steel. It is essentially a simple spring steel with chromium added for hardenability. It has good edge holding, but is known especially for its outstanding toughness (like L-6). Often used for swords (hardened in the low 50s Rc) because of its toughness, and is also used for hard use knives (hardened up near the 60s Rc).