MMHW Mineral Mountain Hachet Works MMHW Small Harpoon Knife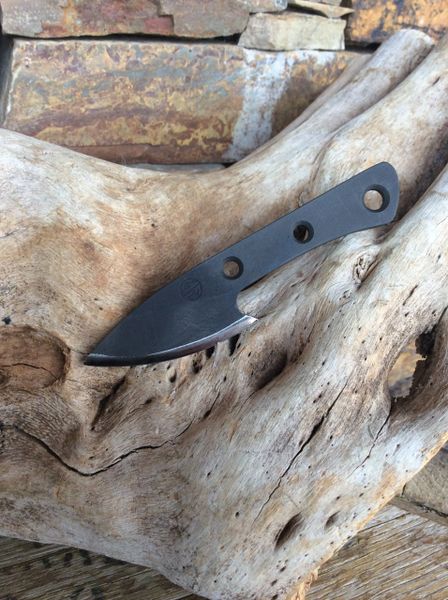 MMHW Mineral Mountain Hachet Works MMHW Small Harpoon Knife
Mineral Mountain Hatchet Works small harpoon with one of my Kydex sheaths.
I mount/piggyback a lot of ESEE AH-1 Arrowheads to my sheaths for emergencies and I've always thought it was a bit small for the purpose of lashing to a stick and using to take small game or for protection. Plus I wanted something to strike my fire steel besides my knife. I have bought some survival harpoons from different makers and they were either to big to small or crap material. I asked Ted at MMHW to design a small and large knife/Harpoon and he did not disappoint!
This is the small at 4-1/4" overall and a 2-1/8" blade with barb. The harpoon is 3/16" in thickness and just under 1" at widest point. These are made from 5160 high carbon steel that has been parkerized.
This will make a great EDC knife but I would grind off the barb first. I will do it free just let me know.
Ted Frizzell, the master Arkansas knife maker behind Mineral Mountain Hatchet Works, has over 35 years experience producing some of the finest handmade working grade knives and custom handmade knives available. He has created well over 6000 knives, 2500 axes, and 600 swords. Ted has become well known for his hardworking big bowies and swords both nationally and internationally.
Over 35 years of development has gone into these knives. All MMHW knives, swords, and axes are made "to order" for hard use with 5160 high carbon steel and are finished with a non-glare, rust-resistant parkerization. Bead blast finish is available upon request. Deep hollow grinds and great geometry make these knives excel at cutting or chopping.