MMHW Mineral Mountain Hatchet Works 8" Bullnoser 5160 Knife w/ Riptile Nocturnal Kydex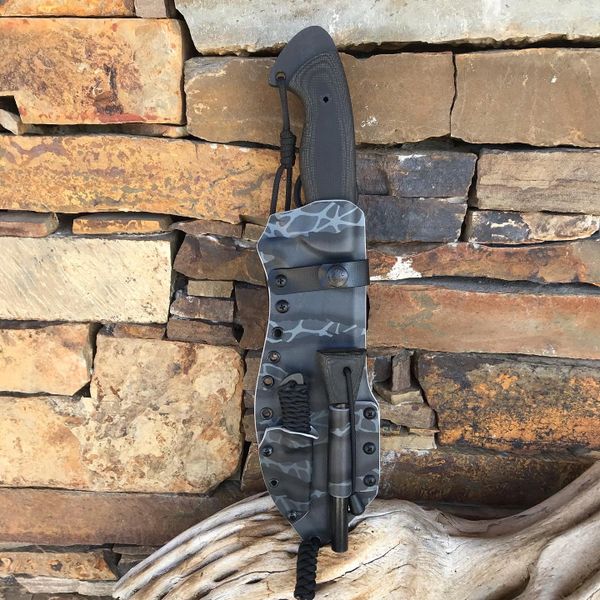 MMHW Mineral Mountain Hatchet Works 8" Bullnoser 5160 Knife w/ Riptile Nocturnal Kydex
Free Shipping USA Only!! Canada and Overseas please read my shipping policy...
Brand new knife with one of my custom Kydex sheaths. Buyer will receive knife and sheath in photos.
I made this pancake open top  style sheath from .080 Riptile  Kydex. The sheath comes with a Dangler/Baldric attachment, large fire steel with Micarta top, MMHW harpoon and to bottom off this rig is a 7RB Fire Cord tie. The harpoon has its handle wrapped with about 4 feet of 350 paracord.. For Baldric carry  i would suggest that strap from a range or gym bag that you keep and didn't want to throw away? They usually have nice metal hooks on them that work fantastic on the D-ring...
From MMHW;

If you are interested in survival equipment you are at the right site. MMHW blades are survivors! After 40 years in the business and 14,000 plus blades out the door we have many many MMHW blades in the hands of second generation owners, not to mention those in 3rd generation owners. MMHW, built for generations of use!
Ted Frizzell, the master Arkansas knife maker behind Mineral Mountain Hatchet Works, has over 35 years experience producing some of the finest handmade working grade knives and custom handmade knives available. He has created well over 6000 knives, 2500 axes, and 600 swords. Ted has become well known for his hardworking big bowies and swords both nationally and internationally. Satisfaction guaranteed. 
5160:
5160: A carbon steel with the addition of a small amount of chromium to produce a high toughness, but not enough to call this alloy "stainless." Contains less carbon than the most popular carbon steels (between 0.56% and 0.64%, as opposed to the 0.95% in 1095). This steel is known for its outstanding toughness.