MMHW Mini Drop Point Hunter w/ Hexcam Kydex Sheath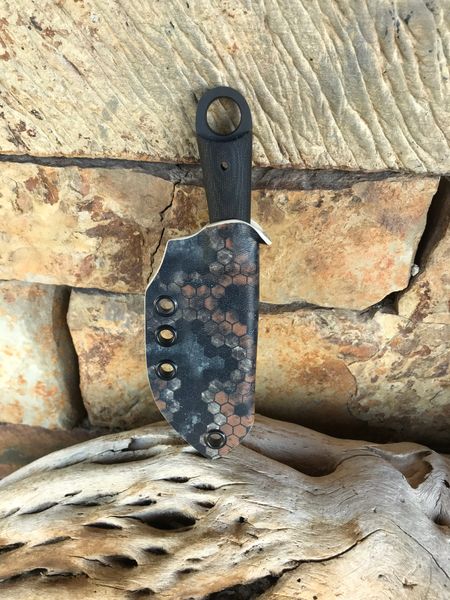 MMHW Mini Drop Point Hunter w/ Hexcam Kydex Sheath
Knife comes with one of my Custom Taco style sheaths. The eyelets are set for a small Tek Lok (not Included).  The Tek Lok can mount in the vertical, scout and modified scout positions as well as left or right hand pull.

Put it in your pocket, inside your belt, or in your boot. This little guy will take care of business. As good for a letter opener as it is for a small game knife. Anyone who likes a small, easy to carry, and sharp knife with a bit of a belly will like this one. Fast and sharp self-defense.

Overall Length: 5 ½ inches

Blade Length: 2 ½ inches

Blade: 3/16" thick '5160'

Ted Frizzell, the master Arkansas knife maker behind Mineral Mountain Hatchet Works, has over 35 years experience producing some of the finest handmade working grade knives and custom handmade knives available. He has created well over 6000 knives, 2500 axes, and 600 swords. Ted has become well known for his hardworking big bowies and swords both nationally and internationally. Satisfaction guaranteed. 

More from MMHW

MMHWis a second generation shop. We offer over 40 years of combined experience producing extreme usage cutlery and full bore field ready tools you can count on. We will make you a custom knife; but, we do not add 'bells and whistles' that only drive the price of the knife or axe up. Function is our byword. If it does not function there is no fun; and, chances are if it isnt fun then it probably doesnt function.