Ontario Knife Company OKC Falcon Knife W/ Custom Kydex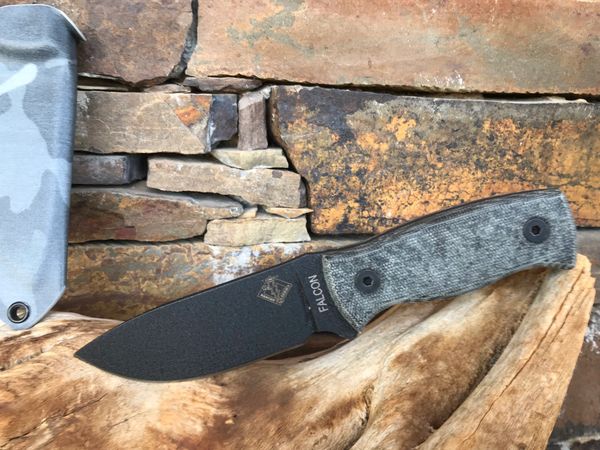 Ontario Knife Company OKC Falcon Knife W/ Custom Kydex
The best way to buy Kydex is to have the sheath made to the actual knife! 
Brand new Falcon with factory ballistic nylon sheath  plus one of my custom Kydex Sheaths (ready to ship) slightly more than the factory price!!!
A Battleship Grey .080 taco style sheath will be fitted to this exact knife for the best possible rattle free fit. Sheaths eyelets will he set for a large Tek Lok (not included).
All other upgrades, belt attachments and sheath accessories will be normal pricing. Please check the Belt Attachment Category and the Sheath Attachments Category.
The Ranger Falcon fixed blade is the first in the Ranger hunting series.Following the Ranger tradition of heavy duty built products the Ranger Falcon hunting knife is perfect for small or large game. The Falcon's Micarta handles provide the non - slip grip that is so important when cleaning game or working around camp. This hunting knife is made to last generations of hunters.

The Ranger line is a set of combat and survival knives and tools designed and built for combat deployment in the most unforgiving terrain on the planet. All Ranger knives feature a thick blade made from robust carbon steel, a durable micarta handle and a nylon MOLLE compatible sheath.




OVERALL LENGTH 8.1 in (20.7 cm)

FixedHARDNESS53-55 HRC

EDGE TYPE Plain

HANDLE COLOR Green

BLADE GRIND Full Flat Taper

BLADE FINISH Powder Coat