Ontario Knife Company OKC Rat 3 D2 w/ Custom Kydex Used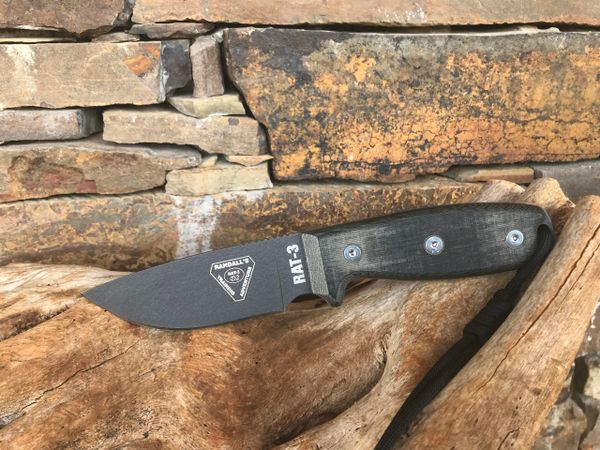 Ontario Knife Company OKC Rat 3 D2 w/ Custom Kydex Used
Listing is for a used (no signs of use) D2 Tool Steel (more about the steel below) Ontario Knife Company OKC Rat 3. and one of my custom Kydex sheaths plus a fire steel.
I made this taco  sheath from .080 Kryptek RAID Kydex. The Rat 3 sheaths eyelets are set for a large Tek Lok and one is included. The Tek Lok can mount in the vertical, scout, and modified scout positions as well as left or right hand pull. The knives lock in with a smooth pull.  An emergency fire steel and a 7rattlesbushcraft Fire Cord tie is also included.
To use the fire steel, pull out of holder. 
To use Fire Cord you must cut it off the sheath and untie. There is approximately 2 feet of Fire Cord in the 7rattlesbushcraft tie. Look for red fuse looking string. Check with manufacturer for the different ways to use their product.
D2 Steel - This steel has high chromium content, just less than what might classify it as stainless steel. Because of this it has good rust resistance. It is much tougher than most stainless steels, but not as tough as most of the other tool steel. This steel does have excellent wear resistance. It has great edge retention but can be very difficult to sharpen. This is also a tough material to mirror polish, so it you will almost never see it that way. Its carbon content is 1.50-1.60%.
All sheaths and holsters are handcrafted to imperfection by me, a US Army Vet. No two are the same nor are they perfect but I do try and care! I take individual photos of each item and you get what's in the photos!
Most knives are hand ground and sharpened so to get the very best fit with Kydex the best option is buy you knife with the sheath made to the exact knife and that is what I do!!