Tops Knives BARTENDER DEFENDER XL w/ Custom Orange Carbon Fiber Sheath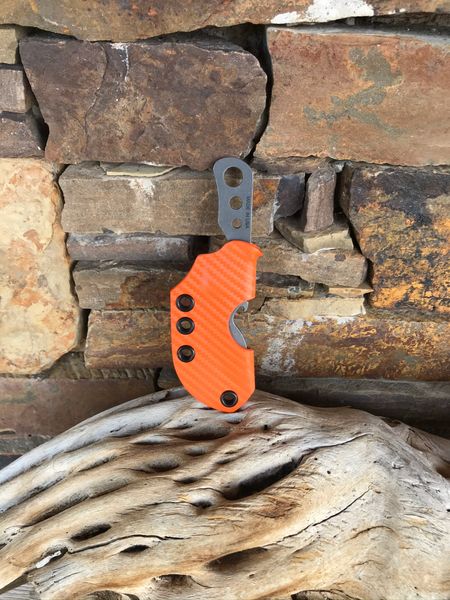 Tops Knives BARTENDER DEFENDER XL w/ Custom Orange Carbon Fiber Sheath
Free Shipping USA Only! Canada and Overseas please read my shipping policy..
I made this taco style sheath from .080  Orange Carbon Fiber kydex. The sheaths eyelets are set for a small Tek Lok (not included). The Tek Lok can mount in the vertical, scout and modified scout positions as well as left or right hand pull.
The Bartender Defender XL is a follow up to TOPS' very popular Bartender Defender. This model was made thanks to specific customer feedback. Many liked that the original was extra small and lightweight, but wanted a slightly longer blade to work with. Don't let the "XL" fool you. This new model is still less than 5.5" long when it's sheathed, but has a blade over 2" long. Another update is that the bottle opener is accessible without having to remove the knife from the sheath. TOPS went with a smooth and attractive tumble finished 1095 blade with a clear Cerakote to protect from rust. The Bartender Defender XL is an excellent choice for those who are constantly opening boxes and/or brews.
Knife Type Fixed Blade Neck
Overall Length 4.63"
Blade Length 2.13"
Cutting Edge 2.13"
Blade Thickness 0.130"
Blade Steel 1095
RC 56-58
Blade Finish Tumble
FinishHandle Style Skeletonized
Knife Weight 1.6oz
Weight w/ Sheath 2.4oz
Sheath Included Yes
Sheath Material Black Kydex
Designer Ryan Johnson