Tops Knives Fieldcraft BOB 154 cm Knife Blue Black w/ Raider Trident Kydex Sheath Used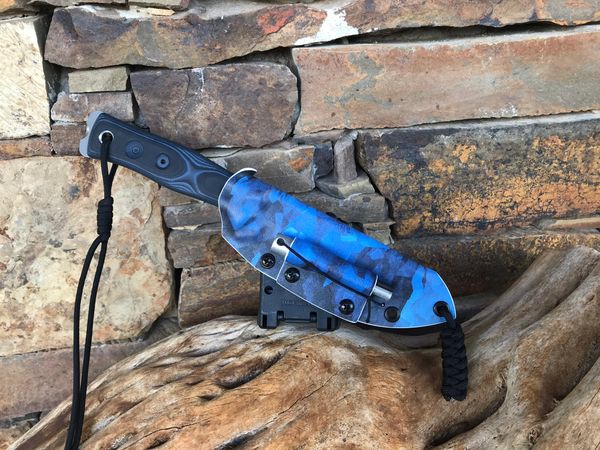 Tops Knives Fieldcraft BOB 154 cm Knife Blue Black w/ Raider Trident Kydex Sheath Used
I am a Tops Knives authorized dealer!
Nice Knife looks to be in unused condition, comes with factory sheath, fire steel, and  one of my custom Kydex sheaths with Tek Lok. I love this Steel because I'm lazy and have better things to do than worry about my knife but i do not like rust. Pretty low maintenance with this rig.
I made this taco style sheath from .080 Raider Trident Kydex. The sheaths eyelets are set for a large Tek Lok and one is included. The Tek Lok can mount in the vertical, scout and modified scout positions as well as left or right hand pull. Sheath has a matching holder for the Tops Knives fire steel and a 7RB Fire Cord tie at the bottom.
To use Fire Cord: untie the Fire Cord and use according to manufacturers instructions.
The popularity of TOPS Fieldcraft knife (aka BOB, aka Brothers of Bushcraft, aka BROS) has prompted multiple versions of the model. However, all of those versions were still make from 1095 high carbon steel, until now...
TOPS is proud to present the Fieldcraft in 154cm stainless steel. 154cm is a high quality steel that makes excellent knives. This version of the knife is available in any one of the handles that we make. It is the same size as the other Fieldcraft models. The Rockwell hardness is 58-60, and because it's stainless, it is a full heat treat and not a differential heat treat. Some of the bushcrafters out there will like this feature because with a small, simple modification, they can use the spine for striking a ferro rod or for scraping tasks.
The Fieldcraft Knife was designed by The Brothers of Bushcraft, a coalition of men across North America focused on sharing wilderness living skills of all categories. From tracking, to building shelters, the Brothers of Bushcraft make it a point to show the skills to all people, of all ages, from all over.