Used Ontario Knife Company OKC Rat 5 D2 w/ Custom Kryptek Raid Kydex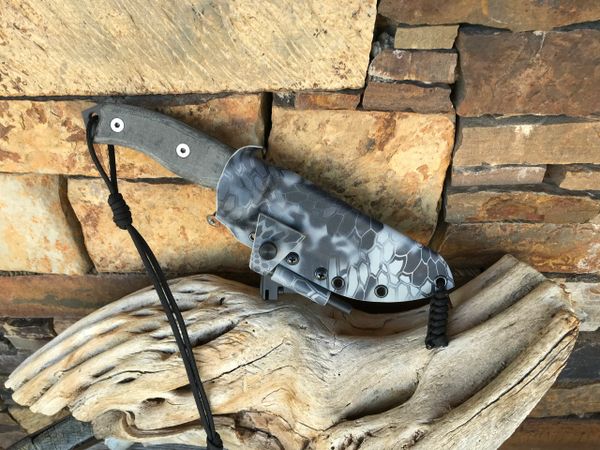 Used Ontario Knife Company OKC Rat 5 D2 w/ Custom Kryptek Raid Kydex
Free shipping USA Only!! Canada and Overseas please read my shipping policy..
This is a lightly used and sharpened D2 (see below) knife with factory ballistic nylon sheath.
I made this knife a taco style sheath from Kryptek Raid Kydex. There is a large Tek Lok installed for right hand cross draw modified scout position. The Tek Lok can mount in the vertical, scout, and modified scout positions as well as left or right hand pull. There is a emergency fire steel with holder, a lanyard for the knife and to bottom off the sheath a Fire Cord 7RB tie.
D2 Steel - This steel has high chromium content, just less than what might classify it as stainless steel. Because of this it has good rust resistance. It is much tougher than most stainless steels, but not as tough as most of the other tool steel. This steel does have excellent wear resistance. It has great edge retention but can be very difficult to sharpen. This is also a tough material to mirror polish, so it you will almost never see it that way. Its carbon content is 1.50-1.60%.