White River Knives Sendero Bush S30V Bushcraft Hunting EDC Knife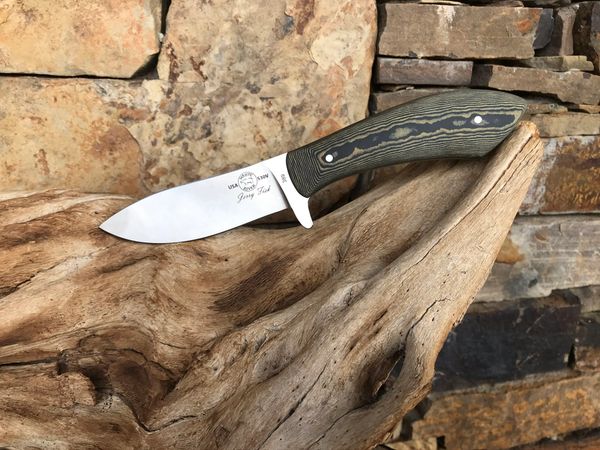 White River Knives Sendero Bush S30V Bushcraft Hunting EDC Knife
FREE SHIPPING USA ONLY Canada and overseas please read my shipping policy.
This is my preferred US Maker of Stainless knives and they use my preferred steel S30V (see below).  I try to find the makers that use quality craftsmanship and materials at a great prices and White River definitely qualifies.  Your  knife buying dollar is well spent on their products.
Designed by Jerry Fisk, MS 

White River Knives is honored to collaborate with Master Bladesmith Jerry Fisk, MS. Jerry designed, field tested, and has been personally involved in all decisions related to the making of these knives. Mr. Fisk describes this knife as "the best overall using knife I have made in an outdoors knife." Each Knife is precision ground, hand finished, and leather honed.
| | | | |
| --- | --- | --- | --- |
| SPECIFICATIONS | Blade Length: 3.6" | Overall Length: 8.25" | Blade Thickness: .130" |
| Blade Steel: CPM S30V | Hardness: 58-60 HRC | Knife Weight: 4.8 ounces | Sheath: Leather |
White River Guarantee: If you are not 100% satisfied with this knife, send it back for free repair or replacement.
CPM S30V is considered a premium grade knife steel. It is so expensive that it strongly affects the price of the knife, and is largely used in higher-end production and custom knives. Buck Knives calls it "the absolute best blade steel available".[5] Joe Talmadge claims it might be the ultimate high-end all-around stainless steel, due to high performance coupled with easier machinability and sharpenability than the other steels in this class.[6]
In 2009, Crucible Steel introduced an update to CPM-S30V to meet the needs of renowned knife maker Chris Reeve that they called CPM-S35VN. The addition of 0.5% Niobium, and reductions in both Carbonfrom (1.45% to 1.40%) and Vanadium (from 4% to 3%) produced an alloy with 25% increase in measured Charpy V-notch toughness over S30V (Crucible claims 15-20% improvement). Working chefs and outdoor survivalists laud the improved toughness of S35VN, which greatly reduces the micro-bevel chipping that tends to plague S30V in rough use. In these kinds of applications the obvious benefit of quick honing of an S35VN blade with a strop or steel stick in lieu of needing to remove metal and reform the edge puts S35VN at an advantage over S30V. In light use, edge-holding and stainless properties between S35VN versus S30V are thought to be roughly the same, and performance will often be affected nearly as much by the applied heat treatment, blade design, and the edge geometry as the differences in metal chemistry.[citation needed]
Around this same time period, Carpenter CTS-XHP and Uddeholm Elmax became more widely available for cutlery usage. These powdered steels use a different process than Crucible, but they are also high-end stainless steels (with high-chromium and high-vanadium levels similar to S30V and S35VN) intended to compete with CPM-S30V and CPM-S35VN.